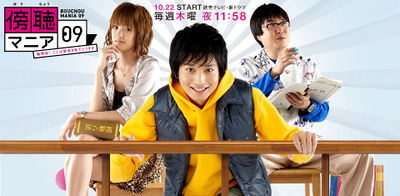 Title: Bocho Mania 09 (Japanese Drama)

Also Known As: 傍聴マニア09
Genre: Legal Drama
Broadcast Date: October, 2009
Total Episodes: 13
Casts: Minami Akina , Mukai Osamu, Rokkaku Seiji
English Subs: Yes
Ost: N/A
Synopsis/Summary/Review:

Morio is a freeter who winds up sitting in the audience at a trial for the first time. He instantly becomes fascinated with the human interactions that take place inside the courtroom, and he turns it into a hobby. At court he meets others who share his hobby and teach him about what's going on in the courthouse and how to find the most interesting trials.
Video Links: (will be added soon)