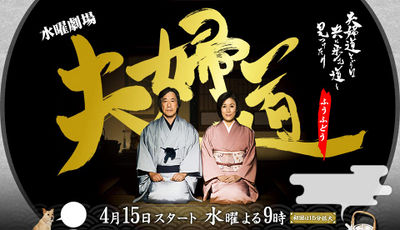 Title: Fufudo Season 2 (Japanese Drama)

Also Known As: 夫婦道
Broadcast Date: April, 2009
Total Episodes: 11
Casts: Hashizume Isao, Motokariya Yuika, Takahata Atsuko, Takeda Tetsuya, Takuma Seiko, Yamasaki Shizuyo
English Subs: Yes
Ost: N/A
Synopsis/Summary/Review:

Tea-loving Takanabe Kensuke and his reliable wife Satoko are an ordinary couple in Saitama who operate the manufacture and sale of tea on the Takanabe garden. They have three daughters, who have all married and left home, and one son named Shigeru that they live with. The sequel starts in the spring, with Kosuke about to begin the harvest and Satoko planning to start a cafe in a section of their storefront. One day a TV producer comes to Takanabe's garden looking to do some filming for a show. Kosuke gets really excited about this opportunity for a growth in sales, but the show does not go as smoothly as Kosuke expected.
Video Links: (will be added soon)