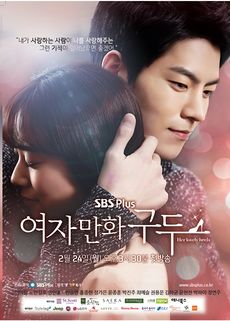 Title: Her Lovely Heels (Korean Drama)

Also Known As: 여자만화 구두 / Women, Comics and Shoes / Woman Comic Shoes / Girls Comic Shoes
Genre: Romance
Broadcast Date: February, 2014
Total Episodes: 10
Casts: Han Seung Yeon, Hong Jong Hyun, Jung Ga Eun, Yoon Jong Hoon, Park Jin Joo, Kwon Yong Woon, Kim Ha Kyoon, Jung Yun Joo
English Subs: Yes
Ost: N/A
Synopsis/Summary/Review:

This drama is about the story between a woman who is afraid of love and a man who doesn't believe in love.

Shin Ji Hoo (Han Seung Yeon) holds painful memories from her first love. She now has a secret crush on co-worker Oh Tae Soo (Hong Jong Hyun). Tae Soo does not believe in love, but by some incident Tae Soo becomes interested in her.
Video Links: (will be added soon)