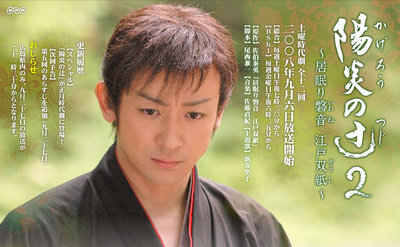 Title: Kagero no Tsuji Season 2 (Japanese Drama)

Also Known As: 陽炎の辻/Crossing of Heat Haze
Broadcast Date: September, 2008
Total Episodes: 12
Casts: Hiraizumi Sei, Kawamura Yosuke, Kitagawa Hiromi, Nakagoshi Noriko , Ukaji Takasi, Watanabe Ikkei, Yamamoto Koji
English Subs: Yes
Ost: N/A
Synopsis/Summary/Review:

This is a story about a gifted swordsman who overcomes problems with a strong sense of justice and genuine sympathy toward commoners. Four years have passed since Iwane moved to Edo but he still lived in a row house where a masterless samurai who often troubles Iwane becomes his neighbor with his family. Commoners with various problems come to Iwane and ask for help. Iwane solves them while enjoying warm exchanges with commoners including his ex-fiancée and another girl in the neighborhood who admires him.
Video Links: (will be added soon)