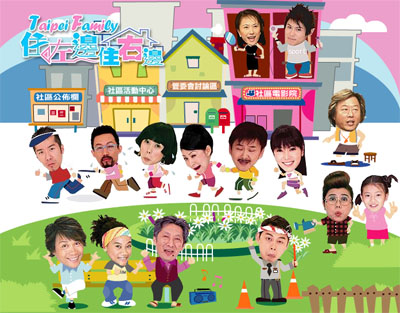 Title: Taipei Family (Taiwanese Drama)

Also Known As: 住左邊住右邊 (住左边住右边) / Zhu Zuo Bian Zhu You Bian
Genre: Family
Broadcast Date: September, 2004
Total Episodes: 127
Casts: Chen Yi, David Chen, Janel Tsai, Leon Jay Williams, Melody, Vicky Chen
English Subs: Yes
Ost: N/A
Synopsis/Summary/Review:

Taipei Family is a sitcom first broadcasted on PTS and switched to SETTV. It is about a family living in the Xing Fu (Happiness) Neighborhood and they discuss various problems in Taiwan society using satire. In the first two seasons, each episode is limited to 30 minutes because each episode will have two plots or ideas. In the third and fourth seasons, each episode is an hour long.
Video Links: (will be added soon)