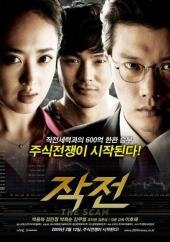 Title: The Scam (Korean Movie)

Broadcast Date: February, 2009
Casts: Kim Min Jong, Park Hee-Soon, Park Yong Ha
English Subs: Yes
Ost: N/A
Synopsis/Summary/Review:

Hyeon-su (Park Yong-ha), an unemployed, self-taught individual investor, hits the jackpot ― though at the cost of disrupting a scam by gangster-turned-financier Hwang (Park Heui-soon). Hwang, however, recognizes Hyeon-su's talent and recruits him for his team of scam artists. They prepare for a 60 billion won heist, but a bigger scam is in the making within the group.
Video Links: (will be added soon)