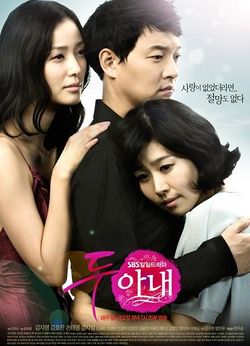 Title: Two Wives (Korean Drama)

Also Known As: 두 아내 / Doo Ah-Nae
Broadcast Date: May, 2009
Total Episodes: 113
Casts: Jo Yang Ja, Jun Moo Song , Kim Ho Jin, Kim Ji Young, Kim Yoon Kyung
English Subs: Yes
Ost: N/A
Synopsis/Summary/Review:

Han Ji Sook is a single mother who falls in love with a married man. The man, Kang Chul Soo, already has a family with his wife, Yoon Young Hee. When Young Hee finds out about Chul Soo's extramarital affair, she distances herself away from him. Eventually they get divorced and Chul Soo starts a new life with Ji Sook. However, as luck would have it Chul Soo gets into a car accident and loses all of his memories of Ji Sook. Young Hee then has to pretend that she and Chul Soo are still married.
Video Links: (will be added soon)