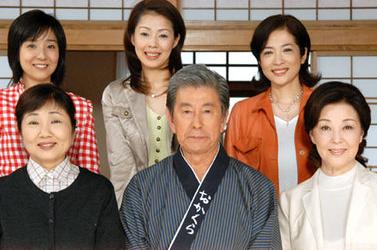 Title: Wataru Seken wa oni Bakari (Japanese Drama)

Also Known As: 渡る世間は鬼ばかり
Genre: Drama
Broadcast Date: January, 2009
Casts: Fujioka Takuya , Utsui Ken, Yamaoka Hisano
English Subs: Yes
Ost: N/A
Synopsis/Summary/Review:

Wataru is based on the life of Okakura Daikichi, a father of five daughters. Daikichi owns Okakura, a 5-star Japanese restaurant most people can only dream of dining. The storylines are based on each of the five daughters' lives, ranging from bitchy mother-in-laws, the kids, their husbands, and so forth. The second oldest daugther is Kojima Satsuki. She is married to Isamu, who's family runs Koraku, a typical Chinese ramen restaurant. Satsuki and Isamu have two kids, Ai and Shin. Isamu's mother, Kimi once lived with the Kojima family (their home is upstairs, in the same building as Koraku). Due to declining health, Kimi moved to the United States and is living with her daughter Hisako. As of the 8th season, Hisako moves back to Koraku, and attempts to earn back her birthright. Satsuki's biggest problem is having to deal with Hisako, as well as Seiko who is very loyal to Kimi and Hisako. Because Satsuki has to work all day at Koraku and tend to her immediate family, she has no time for herself, or even for her four other sisters and her father. The other sisters include Noda Yajoi, Takahashi Fumiko, Munakata Yoko, and Honma Nagako. Yajoi is a retired nurse, and has to deal with her divorced daughter Akari and her grandson. Fumiko runs a travel agency; she too has a problem with her son, Nozomi, who chose to become a guitarist instead of attending college. Yoko is an interior decorator and was recently married. And Nagako is a housewife who married into the Honma family. The Honma family are all physicians, who run Honma Hospital.
Video Links: (will be added soon)