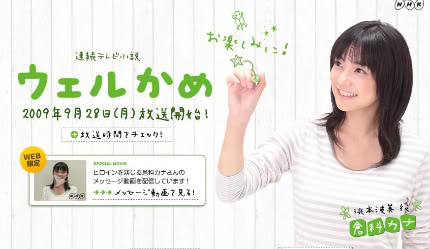 Title: Welkame (Japanese Drama)

Also Known As: ウェルかめ
Broadcast Date: September, 2009
Total Episodes: 127
Casts: Hada Michiko, Ishiguro Ken, Masuoka Toru, Muroi Shigeru
English Subs: Yes
Ost: N/A
Synopsis/Summary/Review:

The 81st NHK Asadora is Welkame. The story revolves around a young woman named Nami, who was born and raised in a minshuku (a type of inn). She leaves for Tokyo to work for a magazine publisher, but is soon laid off. She winds up returning to her hometown, where she has to once again deal with her family and former acquaintances.
Video Links: (will be added soon)