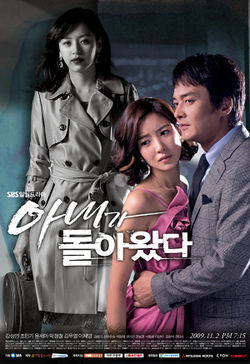 Title: Wife Returns (Korean Drama)

Also Known As: 아내가 돌아왔다 / Anaega Dolawatda
Genre: Drama
Broadcast Date: November, 2009
Total Episodes: 100
Casts: Jo Min Ki, Kang Sung Yun , Lee Chae Young , Park Jung Chul, Yoon Se Ah
English Subs: Yes
Ost: N/A
Synopsis/Summary/Review:

Jung Yoo Hee married the love of her life, Yoon Sang Woo. However, his mother despised Yoo Hee and forced Yoo Hee to leave her husband and young daughter. Years later, Yoo Hee returns with the intentions of getting her family back. Will Sang Woo be willing to let her back into his life and what about his new wife, Seo Hyun?
Video Links: (will be added soon)