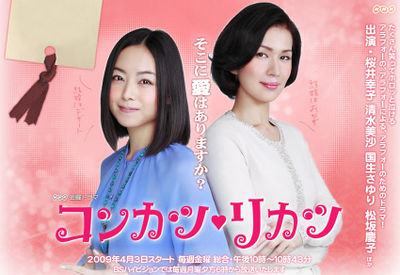 Title: Konkatsu Rikatsu (Japanese Drama)

Also Known As: コンカツ・リカツ
Genre: Comedy
Broadcast Date: April, 2009
Total Episodes: 8
Casts: Kokusho Sayuri , Matsuzaka Keiko, Sakurai Sachiko, Shimizu Misa
English Subs: Yes
Ost: N/A
Synopsis/Summary/Review:

A story about women around their 40's who are desperately after marriage and divorce. Nanami, a 39-year-old woman with no interest in marrying, decides to find a man to satisfy her mother. She runs into her longtime rival Rikako, who moves in Nanami's place with her son after her husband asked for divorce. Together, they try to realize their wishes for happy marriage and divorce.
Video Links: (will be added soon)