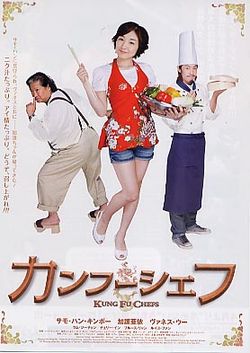 Title: Kung Fu Chefs (Taiwanese Movie)

Also Known As: 功夫厨神 (Gong Fu Chu Shen)
Broadcast Date: February, 2009
Casts: Barbie Xu, Cherrie Ying, Jianfei Wu , Sammo Hung, Vanness Wu
English Subs: Yes
Ost: N/A
Synopsis/Summary/Review:

Jo had kept hatred in his heart for a very long time and did what he could to oust his uncle Wong Bing-Yi (Sammo Hung) from the village and to claim the rights to the "Dragon-Head Cleaver", a symbol of power to the clan. As Wong Bing-Yi was forced out of the village, he encountered Shen Qing (Cherrie Ying) by chance and is determined to help her during the troubled times at her restaurant "Four Seas".

Here, he discovered a young cooking wonder, Lung Kin-Yat (Vaness Wu). To bring "Four Seas" back to the top, Lung ends up representing "Four Seas" to the competition against Chef Tin (Lam Tze Chung), two times "Top Chef" winner and the head chef at "Imperial Palace", the restaurant owned by Jo.

At the day of the finals, Wong Bing-Yi and Jo met privately to try to resolve their problems. Lung shined by overcoming many obstacles and preparing a dish called "Fresh Water Bak-Choy" just as his master, Wong Bing-Yi had taught him. However, the head judge has been bribed by "Imperial Palace" and he is also the master of Chef Tin. Who will finally win the title of "Top Chef"? Can the "Kung Fu Chefs" finally win over the hearts of many?
Video Links: (will be added soon)