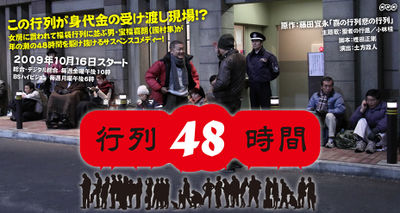 Title: Gyoretsu no 48 Jikan (Japanese Drama)

Also Known As: 行列48時間
Broadcast Date: October, 2009
Total Episodes: 6
Casts: Iwata Sayuri , Kaneda Akio, Kunimura Jun, Morishita Aiko, Sano Shiro, Taira Airi
English Subs: Yes
Ost: N/A
Synopsis/Summary/Review:

A drama about a man nearing his retirement who waits in line for 48 hours to buy a lucky bag on New Year's Day. He and others with strong characters in queue, find themselves caught in a series of strange incidents. The unexpected story evolves through meeting people who try to hide their true feelings.
Video Links: (will be added soon)